50 Cent has a reputation for demolishing artists and labels that don't see eye to eye with him, he's never backed down and he's never been forced to back down. Throughout his career he has silenced artists such as Ja Rule, Jay-Z, Nas, Fat Joe, Cam'Ron and now Rick Ross. Everyone has heard some sort of detail concerning this feud, and now it's time that the people got a detailed outline of what exactly started the beef and what has been going on with it – I can guarantee that this is definitely not a publicity stunt, much like the 50/Kanye beef was in September 2008, leading up to their record releases. This beef is genuine – I know this because of the following facts presented here, feast away and enjoy the entertainment provided:
February / March 2008
Over a year ago, 50 and Fat Joe were battling through photos and loaded words and there was suspecion that 50 created a photoshopped picture of Fat Joe's wife. Fif' had the following to say about it:
"The Hip-Hop Weekly [a fake cover] came out, and it was a thing with [Benzino] supposed to be [sleeping] with Fat Joe's wife. I didn't make that. I didn't have anyone [Photoshop] that. Why would you do that? I work for Hip-Hop Weekly? They'll know that there are issues between me and Joe, so when he approaches them, they'll say, 'Nah, it must be 50. You know how 50 is.' But I didn't care, 'cause I don't like Joe neither. It doesn't matter to me that they did it, but it didn't come from me."
Then, shortly after when asked about Rick Ross, 50 said the following, showing no beef with him directly, but clearly not on the same page with his Palestinian homeboy DJ Khaled, and his Fat butt-buddy, Joe.
"Rick Ross is doing good. I also complimented him that he had the #1 album. I said, 'Just don't stand too close to this fat piece of …' I'm saying that because of what [Joe's] trying to do. He runs to Miami and hangs out with them like he's running Miami? Does Fat Joe run Miami? I don't think Fat Joe runs Miami. I think people from Miami would be upset you're even questioning that. The fact he can influence DJ Khaled on the radio, does that mean Fat Joe runs Miami? … I don't care if [Khaled] ever plays my records. He's not important enough to what I'm doing for it to matter. Not to say Miami doesn't count. He doesn't count for it to matter to me."
November 2008
In an interview with TRUE Magazine, Rick Ross, when asked about "rumored beef" with 50 Cent, states the following:
"I've never heard of a Rick Ross/50 Cent beef. Real niggaz beef by pulling pistols…that's what real beef is. I shit on niggaz and 50 do what he do. But this is the first time I've heard of a beef with 50 Cent."

January 24, 2009
Out of nowhere, Rick Ross releases a new single entitled "Mafia Music", which features a direct, confusing diss on 50:
"I love to pay ya bills, can't wait to pay ya rent, Curtis Jackson's baby mama, I ain't looking for a cent, Burn the house down, You gotta buy another, Don't forget the gas can, Jealous, stupid motherfucker."
January 29, 2009
Fif' fires back with "Officer Ricky" Diss explaining how Ross was a parol officer before he began rapping about cars he was leasing and houses he was renting.
January 30, 2009
Rick Ross, not satisfied with the rebuttal, speaks on air saying that "50 says 24 hours to release something better"
January 31, 2009
Fif' fires back times 3. Comes out with a video diss, the first Officer Ricky Diss Cartoon, and another video where he interviews Rick Ross' baby's momma Tia Kemp on how cheap and broke Rick Ross really is – Fif' then proceeds to buy her a fur coat and a pair of shoes at the Gucci store on 5th Ave. among other things.
February 2/3, 2009
Ross and 50 both appear on radio interviews both confident about their success throughout the battle. 50 confident Khaled and Joe are behind Ross egging him on, stating:
"I Know It's Comin From Khaled..
Def Jam Is Already Wavin The White Flag..
He Can't Recover From What I've Done..
Tia Needed Some Affection..He's Callin Her Crazy Now"
February 4, 2009
Def Jam Records places a "Gag Order" on Ross canceling the remainder of his scheduled radio interviews. Fif' continues to do interviews.
February 5, 2009
50 Cent states the following about Rick Ross on Power 96 Miami Radio:
"Rick Ross Is A Fraud..
My Artists Have More Money Than Him..
Being Authentic Is Important..
What Happened To 2Pac And Biggie Can Happen To Him"

February 6, 2009
Rick Ross released a new diss song entitled, "Kiss My Pinky Ring, Curly"
February 7, 2009
Foxy Brown jumped in the beef and gave 50 24Hrs to retract his rap line in "Officer Ricky", "The cop f**ked a fox." Typical 50, the line, short and sweet refers to a personal relationship Rick Ross and Brown had. It also refers to Ross' past as a correctional officer.
Brown's representative stated, "Foxy is giving that n***a 24 hour [period] to retract that statement or she's going handle [him] Brooklyn Style." Yeah…Foxy…Good Luck.
Meanwhile, 50 beings in Tia Kemp to a Sirius Radio interview where she spills more embarrassing facts about Ross. Also, Tony Yayo, Lloyd Banks and Fifty release another Ross diss entitled "I'll be the Shooter"
February 9, 2009
The website "The Smoking Gun" reports that despite what Ross has said in the past, he has zero relations to any gangs.
February 10, 2009
Ross releases new diss and video against 50 entitled "Push 'Em Over The Edge"
[audio: push.mp3]
Also a website affiliated with Ross posts a picture of 50's son Marquise's face superimposed on a monkey's body: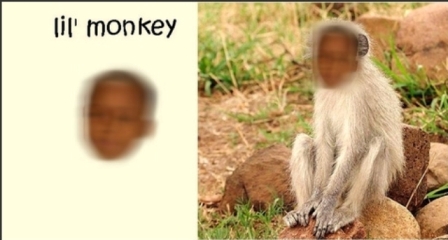 February 11, 2009
50, outraged by this cheap attack on his son proceeds to release a video entitled "A Psychic Told Me" which showed him writing a poem, and included footage of DJ Khaled's mom's house (with the address blurred) and her workplace (a clothing store). Khaled's mom looks completely unaware that she is being videotaped. The cameramen don't show their faces, but do show their Thisis50.com tee-shirts. At the video's end, 50 repeats a recent line for a radio interview "I'm not the kinda nigga you should fuck with, I'm special…I have less compassion than the average human."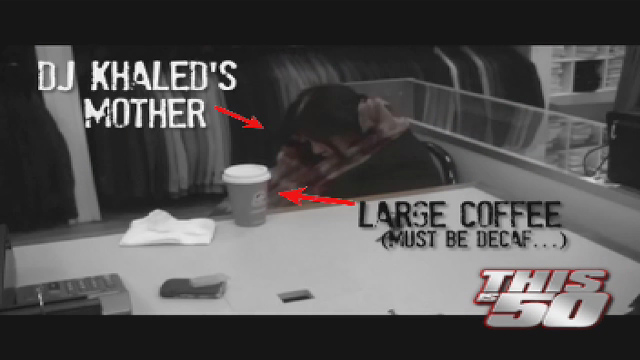 February 12, 2009
50 agrees to take down video of Khaled's mom if the picture of his son is taken down – both are offline before days end.
50 Releases "Tia Told Me" Ross Diss
Lloyd Banks releases his own Ross diss entitled, "Officer Down"
[audio: officerdown.mp3]
So now, 6 days later, there has been silence from both parties. After the serious involvement of each-other's loved-ones it seems that it can either only escalate to a call to arms, or deteriorate with Ross falling off the face of the earth. Both are due to release their new albums in the next 2 months – the beef is sure to continue then. The Game, a foe of 50 recently stated that "For the first time in four years, I'm kind of low-key riding with 50 on this one", and Maino finds it "amusing and funny"  – What do you think?