Hey stranger. Looking for a good burger joint?
If you are, then Sawyer's is the place to go. Located at the corner of N. Broadway and W. Main St. in Lexington, Kentucky, Sawyer's has one of the best cheeseburgers I've ever tasted. Selecting to use prime ground beef, head chef and former MLB outfielder Carl Everett tends to the grill (not really, but damn, "I don't believe in dinosaurs"), flattening out baseball size ground beef balls into the perfect hamburger patty.
Don't know what to order?
Don't worry, the bacon cheeseburger is where it's at. Thick strips of bacon top of your choice of cheese; American, Provolone, Cheddar (the BOMB) as well as hearty grilled sesame seed buns. You don't order toppings either. They have a full salad bar with your choice of toppings; tomatoes, lettuce, cucumbers, grilled onions and mushrooms, and whatever the hell else you can think of are at your burger's disposal.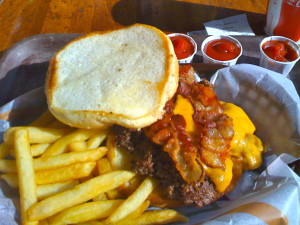 The joint is seat yourself and trust me, there will be seats. Sawyer's is never really busy, but if you catch it at the right time, the line will be out the door, namely during UK sporting events (Big Blue Madness, UK basketball games, other Rupp Arena events). But trust me, people not being there is a good thing. Your burger will come faster!
It's not only a good food hang out, but they also sell an array of select beers and liquors. The layout could be remodeled into something special, but location isn't great and the funds aren't there. I would love to invest in this place and blow it up. Take over Lexington, what?!?
If you're ever around the area and are looking for some good eats, hit up Sawyer's because it's chronic.
Sawyer's
325 W. Main St., Lexington, KY 40507* (859)281-6022