55-year-old Whoopi Goldberg is a hot mess these days, or maybe that's what she'd like you to think. She seems to be involved in everything lately. Recently, her comments on The View concerning Mel Gibson ["Mel Gibson is not a racist, Mel Gibson is my friend"] landed her in some trouble. Then, on her July 19th appearance on The View she was "still drugged" from her plane ride back to New York from Austria.
Real Housewives of DC star Michaele Salahi was apparently straying off topic on The View yesterday, when Whoopi came from off stage and touched her side and told her to get back on subject of her "White House Crashing." From this came total drama.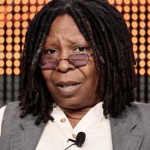 Salahi went public and posted facebook statuses about how she was abused on The View by Whoopi. Needless to say, Whoopi dealt with the situation. She confronted Salahi while she was with her husband and made her admit she didn't hit her. Whoopi states that she used plenty of "choice" words, especially when Mr. Salahi took his blackberry out and started taking pictures of her.
The Salahi's just got Whoopied. Give her about 5 days of staying low until we hear about some more crazy Whoopi shenanigans. So in a little over a month she's personally been involved with the issues of racism, drug use and violence. What's next?