As much as I hate to say it, I think we might have seen Atlanta Braves great Chipper Jones final game. Jones 38, tore his anterior cruciate ligament and will be out for the rest of the season because surgery is needed. While the injury will require surgery that would make it plausible for him to come back for Opening day of 2010 I think that is very doubtful. Jones was vocal in saying that he was contemplating the end (before this injury).
Jones was injured on Tuesday in Houston. Jones scooped up a ground ball and tossed the ball to Hunter Pence. Jones was forced to jump in the air while throwing the ball and collapsed on the field where he was on the ground for several minutes.
Jones said
"It's hurt…I heard a distinct pop."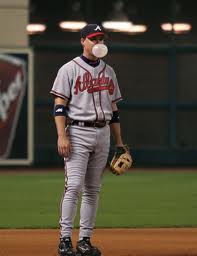 As much as I hate to say it I think he is done. I say this mainly because he has not been playing like the Chipper Jones of of late. The Braves owe Jones $28 million dollars in guaranteed money which may now have to be settled amongst the two sides. Jones has been emotional throughout these talks and feels in away that he is letting his long time skipper and teammates down.
Jones agent said
"I'm sure as the next couple of days go by, those are things we'll discuss and he'll discuss with his family,"… "It's not something he'll decide immediately. He's going to need to hear everything about the injury and rehabilitative process. He'll probably make his decision from there. I can assure you it's not something that's going to be a knee-jerk decision."
In Jones's 2261 games with the Braves Jones has a career batting average .306, 1505 runs, 2490 hits, 436 HR's, and1491 RBI. Jones has always been one of my favorite players growing up and hope this is not the end but in my heart it probably is…