Watch the trailer for "Keepers of the Earth" above to take a look into a world unimagined by most of us. After raising and investing over $20,000 and 2 years of full-time work, the film however still needs four additional months of filming in order to be finished. The Soto-Karlin brothers, joined by six others are determined to get to Mexico and finish shooting.
From The Keepers of the Earth KickStart page:
Keepers of the Earth is an inside look at the battle over transforming the earth's dwindling biodiversity into sustainable development. As the threat of environmental catastrophe mounts, biodiversity gains more and more traction as a hot commodity. Mexico is a mega-diverse country and keenly aware of the potential to turn green plants into green dollars.

Juan Mendez—humble peasant, refugee and Mayan healer—is caught between two warring ideologies. Though forced to work with both sides, he remains single-minded in his quest to revive his people's reverence for the earth. Will Juan find his voice at the UN talks and return to lead his people? or will he be consumed in the conflict?

After a rebellious youth, Rocio is striving to break with cronyism and turn decades of public resentment into trust. A coalition of farmer-activists aren´t buying it and aim to foil the effort. Rocio believes eco-tourism will bring prosperity to rural poor and reconnect urban society with nature. But farmer-activists suspect ulterior motives and intend to use December's UN Climate talks to discredit Mexican leadership on the global stage.

Keepers of the Earth documents the difficulties at the heart of sustainable development and the unwavering pride of Mexico's indigenous people in their daily struggle for land, ancient traditions and the right to join the globalized world at their own pace.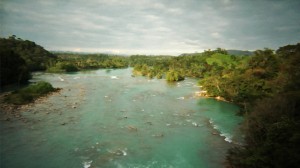 Don't forget to attend 'Keepers of the Earth-a-palooza' – August 27 at 8:00pm – August 28 at 1:00am – at The Noble Tree three-flat cafe, 2444 N. Clark St. Chicago, IL
Donate before September 14 – if the project doesn't meet it's $20,000 goal, all the money will be lost! If you have donated already, feel free to comment and share why you think it's a great idea!