It can be found on dinner tables all throughout the holidays.  From muffins and cookies to fruitcakes and cobblers, nutmeg is a fixture in many of the deserts we eat. But have you ever tried rolling it up and smoking it?
It's the new "homemade" smoking fad, and America's youth are the ones lighting it up. There are hundreds of YouTube videos showcasing the proper way to inhale the spice.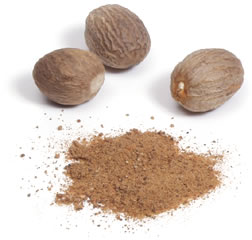 When inhaled, nutmeg is said to have a mild hallucinogenic high, but it also has its downsides. It can cause headaches, nausea and an increased heart rate, however there appear to be no major health effects of smoking it.
Apparently smoking nutmeg has a little history. According to Richard Rudgley of MoodFood.com, Malcolm X was one of the first smokers of nutmeg.  In 1946, before his conversion to Islam, Malcolm X used nutmeg while in jail when his supplies of marijuana ran out. In his autobiography he wrote: "I first got high in Charlestown [prison] on nutmeg. My cellmate was among at least a hundred nutmeg men who, for money or cigarettes, bought from kitchen worker inmates penny matchboxes full of stolen nutmeg. I grabbed a box as though it were a pound of heavy drugs. Stirred into a glass of cold water, a penny matchbox full of nutmeg had the kick of three or four reefers."
Malcolm X was far ahead of his time as an activist, and now it seems he beat many people to smoking nutmeg. Only time will tell if this will become a fixture in American culture.